Brought to You By . . .
Mac Taps has 32 taps of the best selection of craft beer, cider and Kombucha. Dedicated tap for gluten free beer! Come enjoy a pint, a sample flight or fill your growler to go!
Bad ass Beer Maidens? Check! Friendly faces and good memories? Check! Laughter? Great stories? Got em! If you're feeling anti-social, we have 4 TV's you can stare at instead! (Each TV can be tuned to a different network.) Come in and live your stories with us!
We don't have a kitchen but we've got tasty snacks (including a popcorn machine!) and you're welcome to bring food and eat in the bar. Local restaurants may also deliver when available!
We are Doggy Friendly unless we are hosting an event where food is served. Check our
Events
before bringing your pooch.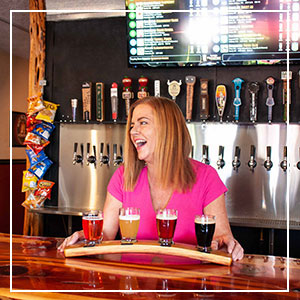 Upcoming Events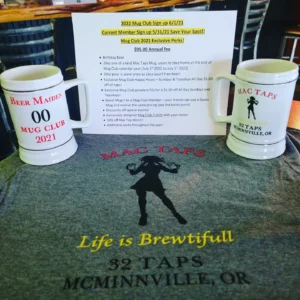 Win a Mug Club Membership! Mac Taps Annual Mug Club Sign Up begins June 1st!! (May 31st for current members) Come on in now to enter your name in the raffle for a FREE Membership! $95 value! Raffle 5/27/22. See photo for all the perks! Including your personal Mug & t-shirt with your name! Become a member of the best & original Mug Club in town! Spaces fill up fast! Call us 503-883-9214 or stop by to sign up!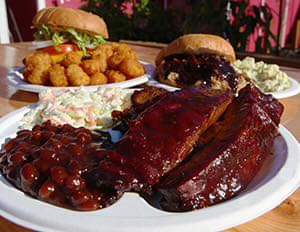 Beers and BBQ with Bert's Chuckwagon BBQ!! Summer hours 11am to 7pm, Friday 6/24/22, Saturday 6/25/22  and Sunday 6/26/22. Enjoy some delicious BBQ with a refreshing pint of beer (or cider) from our 32 Tap selection! Call your order in while at Mac Taps, and they deliver it to Mac Taps!!! If unable to stay, grab a Growler to go!!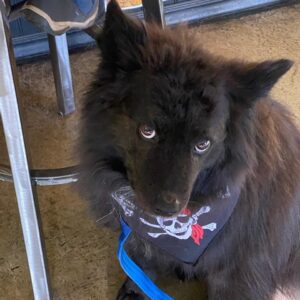 Dogs of Mac Taps: Many pups love visiting Mac Taps with their human family members! Bring in your furry family member(s) & join in the photo series of Dogs of Mac Taps! Healthy doggy treats provided by Dog Mountain Bakery – also available for purchase.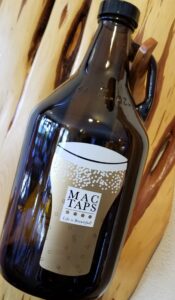 Mac Taps is FULL OPEN!! Come on in, sit down, visit and enjoy a pint! Growler Fills continue as well. Call ahead for curbside service 503.883.9214, this service will continue! check out Facebook & Instagram #mactapsgrowlers.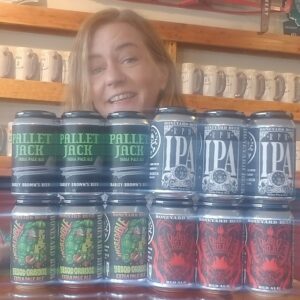 6 Packs in the cooler: Boneyard Cans!  RPM, Hop Venom, Incredible Pulp and Wee Heavy in place for St. Paddy's Day!!  Inventory replenished weekly!!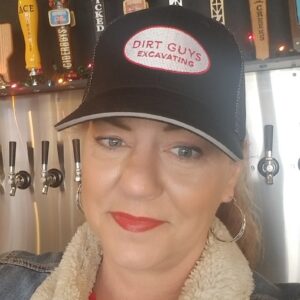 "One Hat/T-Shirt at a Time": is a format for promoting local businesses! Bring your hat or T-shirt etc into Mac Taps and let us bring your business in front of our audience! Free advertising!
See examples on Facebook and Instagram #mactapsgrowlers
​Growlers are available
at Mac Taps!
​Bring your own or purchase one of ours ​32oz $7, 64oz $9
​Fills average $8 for 32oz and $16 for 64 oz.
See the Tap List for current pours.
2022 Mug Club!
Perks for your $85 Annual Membership:
Birthday Beer
20 oz one-of-a-kind mug with your name from Mac Taps. Yours to take home at the end of the Mug Club calendar year
Mug fill is 20oz at the 16oz price
Guest Mug for Mug Club Members friends, buddies, family etc. to use!
Happy Hour Sundays 3-6:00pm & Tuesdays 3-7pm ($1.00 off all taps)
$1.00 off growler fills on Sundays and Tuesdays
Discounts on special events
Exclusively designed Mug Club Tee shirt
10% off Mac Taps merchandise
Additional perks throughout the year
Current Mug Club Members get early renewal option prior to start date.
Note: Membership is complete for 2021. Plan for a 2022 Membership!
2022 Mug Club Sign up June 1st 2022, Mug Club begins July 1st 2022

Monday: CLOSED
Tuesday: Noon to 8 pm
Wednesday: Noon to 8 pm
Thursday: Noon to 8 pm
Friday: Noon to 10 pm
Saturday: Noon to 10 pm
Sunday: Noon to 6 pm
We are Full Open! Come on in and sit down and enjoy a pint! Curb Side Service available call ahead for order 503-883-9214
​
​1306 OR-99W, McMinnville, OR 97128